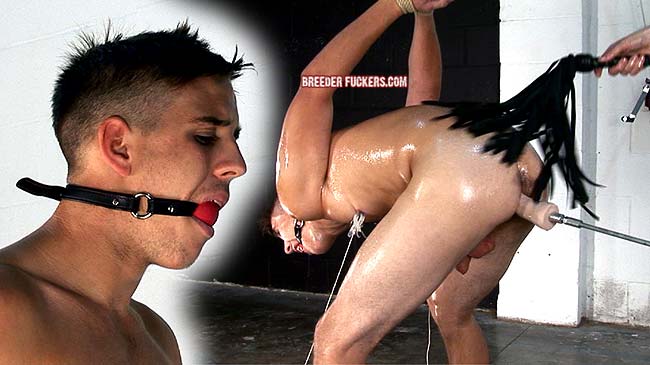 Relentlessly impaled deeply by a fucking machine, nipple and foreskin in viscious clip bondage, oiled up, ball-gagged and flogged for good measure. Toby's appeals for help fall on deaf ears.

Small and tight, sporty tough guy Toby is the perfect specimen of a young straight, ripe for total degradation and humiliation. All of it on film. This is Systematic torment that takes a young lad in the prime of his life, on a journey way past his limits. Watch as Toby experiences one anguish after another, layer upon layer of distress, until it becomes too much. And still it goes on. His precious private parts, which should be fucking his girlfriend, instead become the playthings of a shameless gay sadist. Toby's arms are held so far back behind him that his shoulders virtually dislocate in agony. Drool gushes from his gagged mouth like a waterfall. Bent double with his sensitive nipples attached to his toes, there is absolutely nothing the hetero can do when the fucking machine is inserted into his tight youthful anus. The lad's muffled cries fall on deaf ears as Adrian instead increases his suffering by tying his nips even closer to his toes causing Toby to bend over in a virtually impossible position. Toby is then oiled up merely for the viewing pleasure of fellow sadists, despite the lad's obvious distress.
Just when the straight thinks things couldn't get any worse out comes the flogger and his perfect boyish buttocks are beaten so hard the lad is left shaking in abject horror, all while the fucking machine is continuing to ruin his hole. The cunning use of a mirror allows us to see Toby's face, contorted in agony, while enjoying the sight of his athletic behind being fucked. Only a perverted fiend could enjoy what happens next. Without any let up, the inside of the lad's foreskin is clipped and attached tightly to his toes. Toby is left with the choice of releaving his shoulders or bending far over to save his own nipples and foreskin. A difficult choice to make, eh Toby?! Having once again increased the speed of the fucking machine Adrian has to drown out Toby's cries with a loud ghetto-blaster before leaving him in wicked predicament bondage.
Viewer: when you get hard watching this, guess what? You are a sadist.